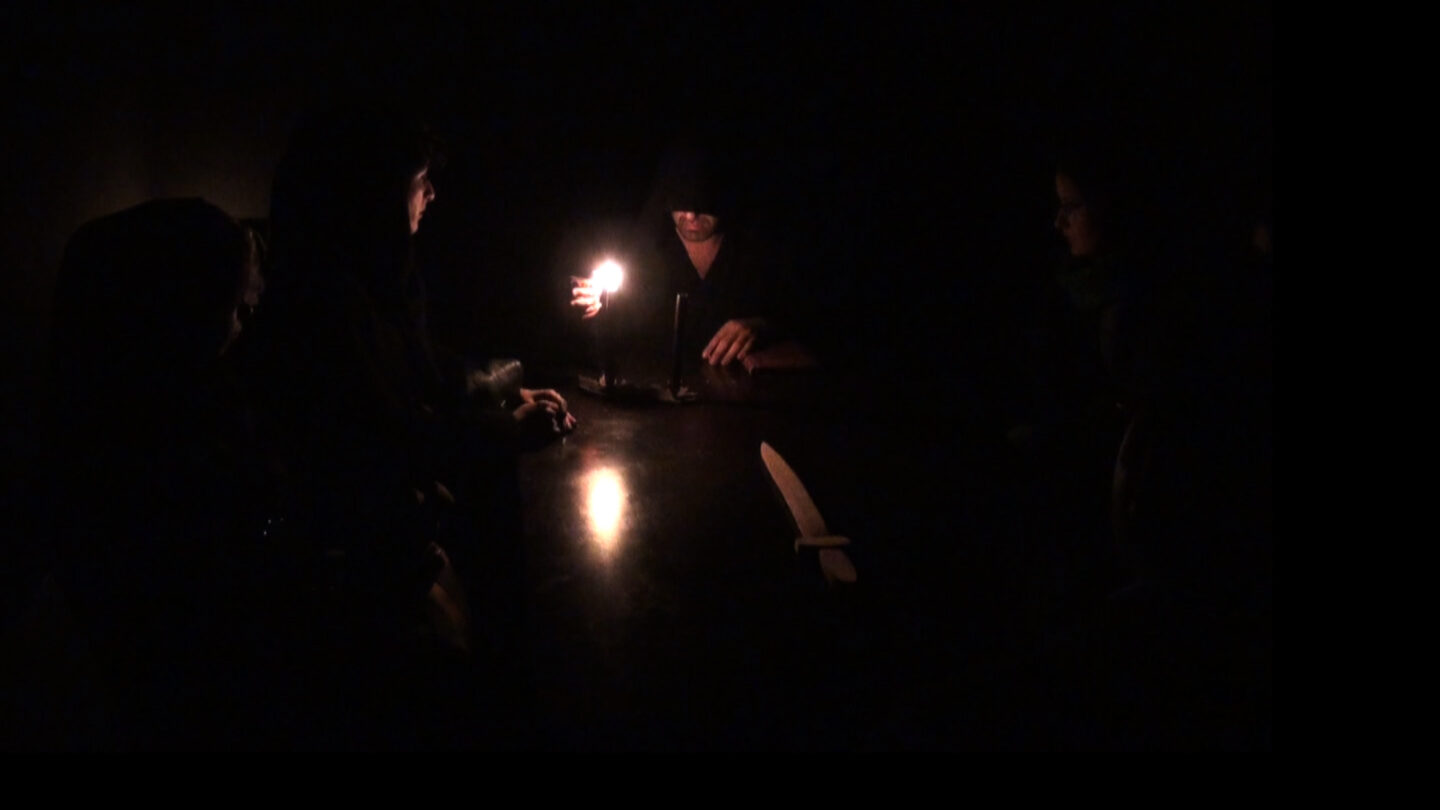 I Cross the Red Line
An interactive performance piece by Ali Ettehad
part of a curatorial project "Border" at Mohsen Art Gallery, Tehran, Iran
Dec. 2011
The work is done in a closed-door room; a room with the dimensions of minimum fifteen square meters. Next to the entrance door of the room there is a sign hanging with "I cross the red line" written on it, there is a red colored stamp underneath the sign. A guide asks the audience to first fingerprint on the white rectangle of the sign – under the title of the work – in groups of five and then enter the room with the guide.
The room is dark, and there is only a candle lit at the end of the room. There is a table at the middle of the room with five empty chairs and an occupied chair which the performer is sitting on. The guide guides the audience in the darkness so they each sit down on their chairs. After the audience is sat the guide exits and closes the door behind him. The room almost sinks into the darkness. The audience can hardly see anything. After few minutes of silence – in a way that the audience can even hear each other breath – playing the sound begins. The sound begins with large velocity hits of small bells.
The performer who is in a tip to toe black robe and a headpiece that is attached to his outfit has covered the upper half of his face, softly places his hands on the table. When the sound file reaches its middle the performer lights a match and suddenly the table is brightened. There are two candle holders, an old book and a wooden sword on the table; the tip of the wooden sword is aimed towards the performer. The performer lights one of the candles. And handles the old book slowly and dully.
With opening the book, the sound of text reading of a man and a woman is added to the background music. The performer anxiously murmurs something alongside the text played from the speakers. Seemingly trying to recall something or memorize parts of the text. Sometimes tears out and crumples up a page.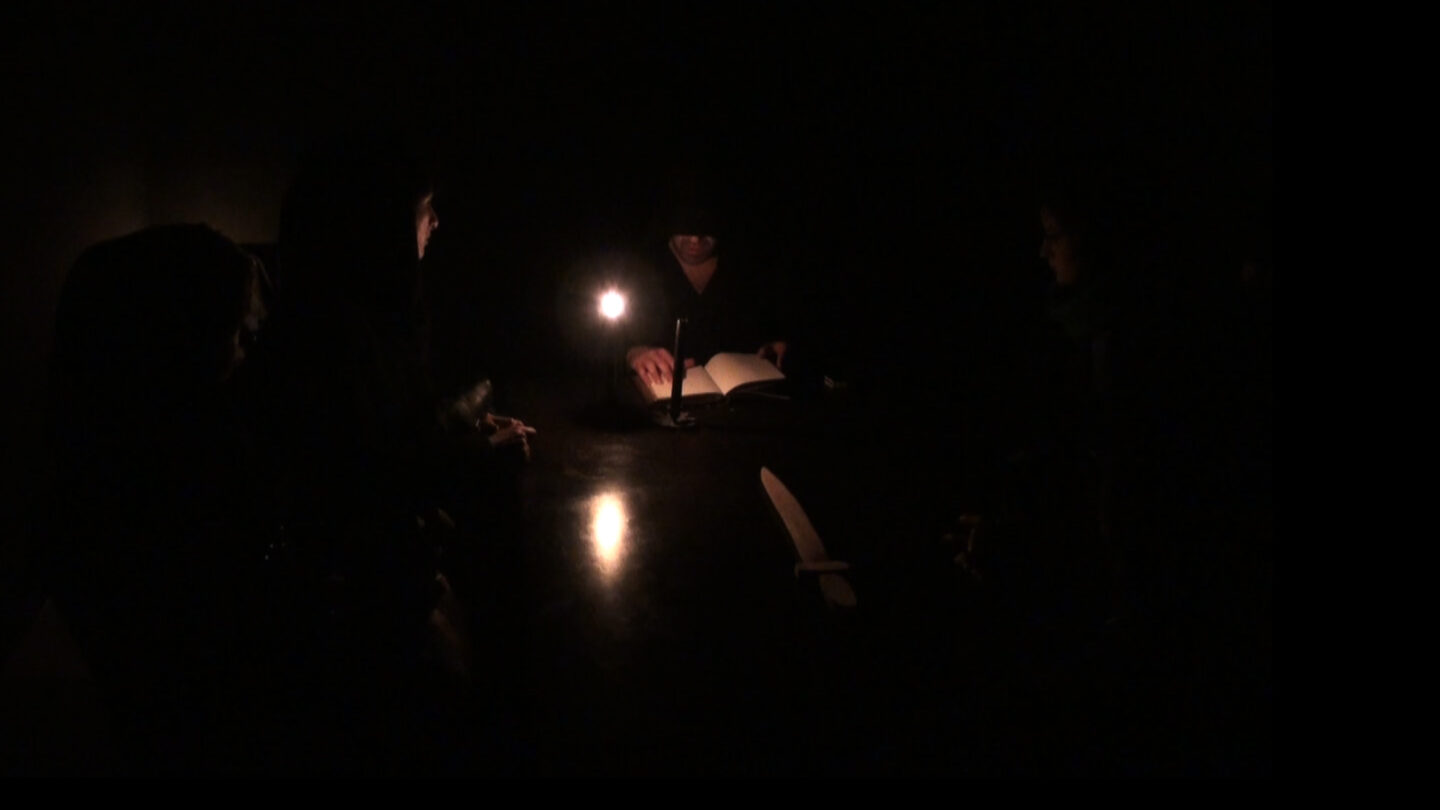 The text that is being heard is as follow: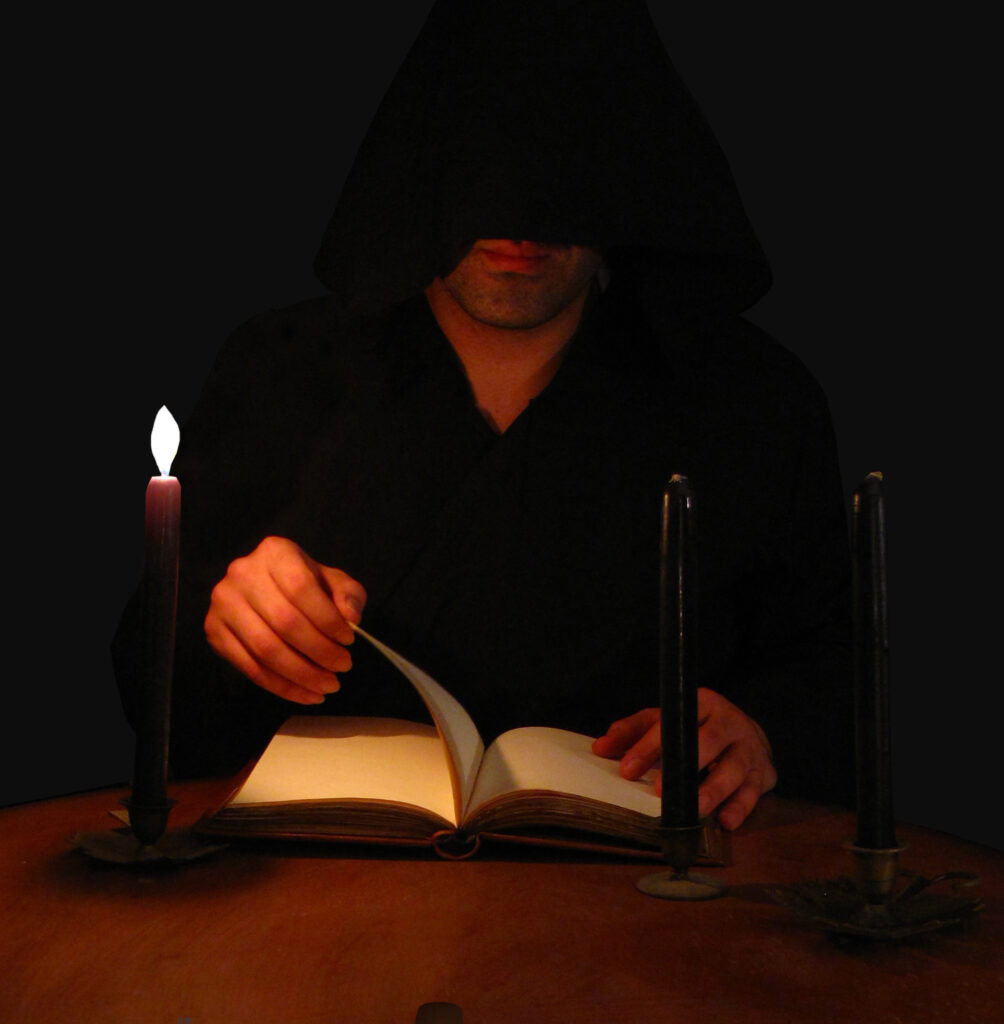 "Who spoiled my silver rivers?
At which bend did they go black?
In which campaign and where, my golden skies did wrinkle, shed and fell?
When did the fire around my head get extinguished?!
I do not remember!
I remember nothing anymore!
From where have you been woven like this?
How did you come?
Did you wrap your feet with felt so I did not hear any sound?!
Did you come from the gate the wall the hole or spontaneously emerged upon the see (Sedes) of the hall, as you seem; leaning on a throne that was not there?
Who did spoil my silver rivers?
On which bend did they go black the waters of my rivers?
Where did the fire around your head come from?
Did you extinguish my fire?
This throne was not here and I cannot remember this golden royal crown that is now on your head either!
Who did blacken my silver rivers?
On which bend did they get spoiled my roaring rivers?
Say the truth! How did you come that I did not hear your footstep?
Did you come from the hole, from the gate or the wall?
Who gave this blade to your hand?
When did it split my veins; your sigmoid blade?
I swear that this throne was not here and I do not remember your golden diadem!
Where did you come from did you have felt wrapped around your feet so that I did not hear your footsteps.
Where did you bring this sigmoid blade from so drops of blood are dripping from it now?
Who did spoil my silver rivers?
When did my golden sky get wrinkled, shed and fell?
Where did you come from; was it dawn or midday?
Did you come from the gate the wall the hole or spontaneously emerged upon the see (Sedes) of the hall, as you seem; leaning on a throne that was not there?
I swear that it was not there; neither the golden diadem nor your glorious throne!
My rivers, who did blacken my rivers?
Who did kill the light of my sky so the drops of blood are dripping from your sigmoid sword?"
---
Some minutes pass in this manner. Until the text reading of the sound file reaches its end. The performer closes the book after the sound ends and puts out the candle with his finger. The room sinks into the darkness again. Minutes later the music also ends. With the end of the sound file the performer remains motionless. Gives the impression of an unwound wind up toy. Minutes pass in silence until the guide opens the door and asks the audience to leave the table.
This performance will continue in a repetitious manner and a minute later the second group will be allowed to enter the room